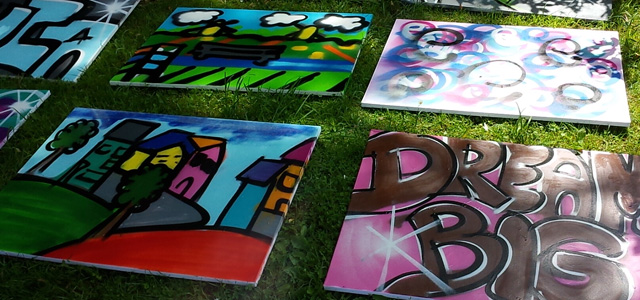 Graffiti Workshop op canvas
Wanneer je tijdens de graffiti workshop een kunstwerk wilt maken die je vervolgens wilt ophangen in de woon- of slaapkamer, op kantoor of als leuk cadeau wilt doen. Dan brengt de canvasdoek een goede uitkomst. Het is een mooiere ondergrond in vergelijking met het hardboard paneel en is helemaal gereed om een lijst omheen aan te brengen. De afmetingen van deze canvasdoeken zijn 0,80 x 0,60 cm.


Klik hier voor meer informatie over de opbouw van de graffiti workshop.
Deze Graffiti Workshop is tevens te combineren met de volgende onderdelen:
Het is tevens mogelijk dat wij de graffiti workshop in het Engels verzorgen.
klik hier voor meer informatie over de prijzen, opbouw, begeleiding, materialen en locaties voor de graffiti workshop.